Accessibility
eText is accessible off the shelf. We work to meet and exceed ADA 508 requirements. Screen reader and assistive technology compatibility is not an after-thought — rather, it is central to the development of our platform. Not only is our platform accessible, but all of our content is as well.
Interface — including rich media players — offers complete keyboard control
All multimedia content is fully captioned; videos provide transcripts
Complex math and science notation is embedded in text-based MathML — not images
ARIA and meta tags enable full functionality of notes and highlights
Users can select high contrast mode, font style and size
Ongoing testing ensures compatibility with all modern assistive technology
eText's fluid XML/HTML 5 framework makes reading easy for everyone.
Study Tools
With eText, students can easily personalize their study environment. Features include:
Search — find terms and content across books
Highlights — choose from four colors; jump to and organize within each chapter
Notes — keep personal notes or post questions directly in context to be answered by instructors
Bookmarks — jump quickly to personally defined sections
In-context Glossary — click on terms to see their definitions instantly
References — click to see a figure or passage that is pages or chapters away without interrupting reading
Assignments — can be embedded directly in their context, with options for students to ask questions
Book Customization — choose interface color, margin width, typeface, and type size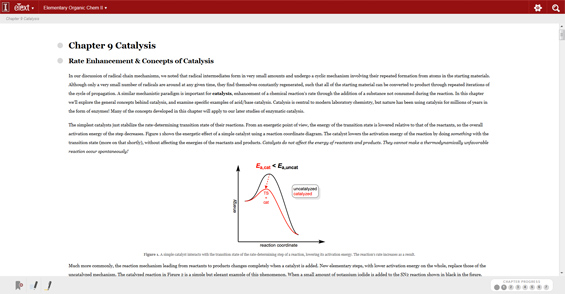 Full Feature List
Teaching
Class rosters are dynamically created through your school's ActiveDirectory
Post assignments and answer student questions directly in context
Organize all chapter media in one convenient, automatically generated list
Publishing
Embed rich media directly into text
Adopt original or published books easily
Also deliver course-packs, library material, conference proceedings, etc.
Release new editions as frequently as each semester
Add timely information from external sources in book margins at any time
Study Tools
Create highlights in four colors
Post private or instructor question notes
Bookmark sections
Jump to notes, highlights, and bookmarks from quick lists
Click on glossary terms to see their definitions
Reference figures that are pages away without interrupting reading
Usability
Use from any device with a browser that supports HTML5
Fluid XML/HTML 5 interface
Dynamic, responsive pages
User control of font, margins, theme
Search within or across books
Customize colors, fonts, etc.
Accessibility
Fully acessible platform and content
Fully ADA 508 Compliant
Complete keyboard control of reading and rich media
Captions on all rich media
High contrast mode and several font options
Complex math and science formulae readable by assistive technology
Security
Authorization controlled by a central credentialing system such as OAuth or Shibboleth
Built-in DRM protection to protect intellectual property
Controllable duration of access for each text